BUY IT NOW
Call for pricing!
TEMPLE HILLS
4.91± ACRE
COMMERCIAL LOT
Zoned CO
BEECH ROAD
Tax ID: 0550616
Near Branch Avenue (MD-5)
Prince George's County, MD 20748
NOTE: The information contained herein has been obtained from sources deemed reliable and is believed to be accurate. However, no express or implied warranty is made or may be inferred from any such representation. Dimensions, square footage and acreage contained herein are more or less. Prospective purchasers are encouraged to perform their own due diligence, in advance of the auction, regarding the permitted uses of the property.
LOCATION:
The property is located on Beech Road, less than one-mile northwest of the Capital Beltway (I-495). Beech Road runs between Branch Avenue and St. Barnabas Road. The Washington D.C. line is approximately three miles to the northwest. Nearby property uses include self-storage, industrial/flex center, retail and automotive on Beech Road. Commercial uses on Branch Avenue and St. Barnabas road are extensive. Single family residential is at the rear of the property. Proximity to both major access routes and area highways makes the property suitable for any number of different uses. According to the Maryland State Highway Administration, approximately 34,000 cars per day pass Beech Road via St. Barnabas Road, and 60,000 cars per day pass Beech Road via Branch Avenue.
SITE:
Four sided lot comprising 214,011 square feet, or 4.9130 acres, more or less.
The lot fronts 892.93′ on Beech Road, with depths of 257.94′ and 222.77′, and a rear lot line of 893.12′. Mostly wooded.
Zoning CO – commercial office
PG Atlas Zoning Map: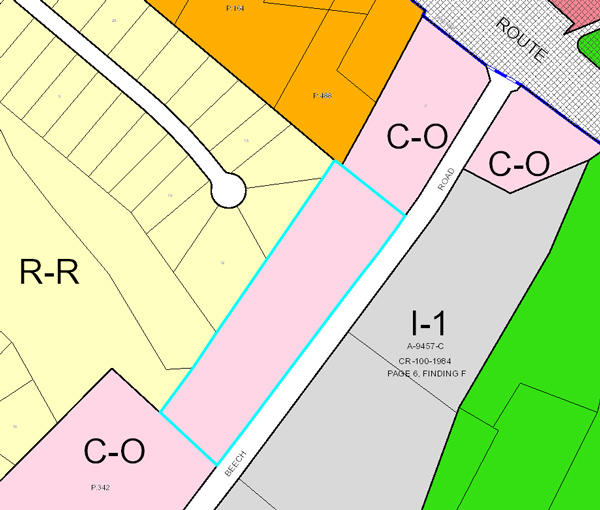 Utilities – public water and sewer are believed to be available. PGAtlas.com has the property in a W-3 Community System water category, and a S-3 community system septic category.
PG Atlas Water Access Map: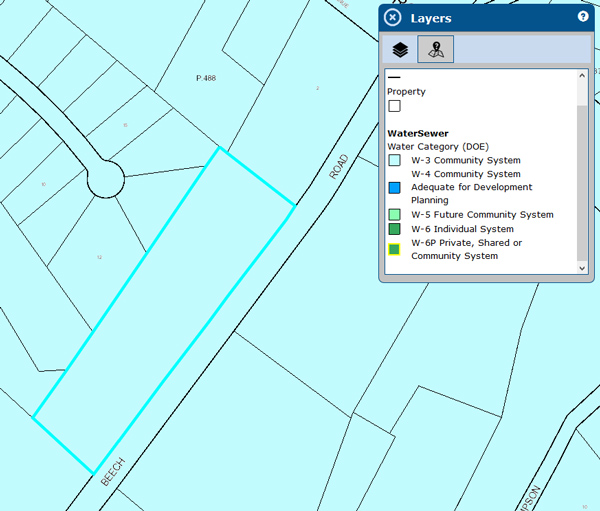 Improvements – none
See www.pgplanning.org and www.pgatlas.com for more information about the property and prospective development.
ADDITIONAL INFORMATION
For a copy of the Property Condition and Environmental Due-Diligence Report, and other documents, please fill out a Waiver and Confidentiality Agreement, sign it, and return it to the office of the Auctioneer by fax to 410-296-4420 or email info@ajbillig.com. Once the completed form has been received, you will receive the confidential information via email. Requests are normally answered Monday-Friday 9 am-4 pm.
TITLE:
The property is in fee simple and sold free and clear of liens. Prince George's County Deed Liber MMB 34112, folio 116.
TAX INFORMATION:
Tax ID #0550616
Published annual real estate taxes are $8,536.58, based on a full value assessment of $600,000.
TERMS OF SALE:
A 10% deposit, payable by certified check or cashier's check, will be required of the Purchaser at time and place of sale. Balance to be paid in cash at settlement, which shall take place within 45 days. If payment of the deposit or balance does not take place within the specified time, the deposit shall be forfeited and the property may be resold at the risk and expense of the Purchaser. Interest to be charged on the unpaid purchase money, at the rate of 12% per annum, from date of contract to date of settlement. All adjustments, including taxes, all other public charges and assessments payable on a monthly or annual basis, and sanitary and/or metropolitan district charges, if any, to be adjusted for the current year to date of contract and assumed thereafter by the Purchaser. The property will be sold in "AS IS" condition, and subject to easements, agreements, restrictions or covenants of record affecting same, if any. Purchaser assumes the risk of loss from the date of contract forward. The Purchaser waives and releases the Seller, the Auctioneers, and their respective agents, successors and assigns from any and all claims the Purchaser and/or its successors and assigns may now have or may have in the future relating to the condition of the property, including but not limited to the environmental condition thereof. If the Seller is unable to convey good and marketable title, the Purchaser's sole remedy in law or equity shall be limited to the refund of the deposit. Upon refund of the deposit this sale shall be null and void and of no effect, and the Purchaser shall have no further claim against the Seller or Auctioneers. Recordation costs, transfer taxes and all costs incidental to settlement to be paid by the Purchaser. Time is of the essence.
No buyer's premium.