This Auction has been CANCELED.
Sold prior to the auction.
ON-SITE REAL ESTATE AUCTION
– $500,000 Suggested Opening Bid –
SOUTHWEST BALTIMORE
One Mile North of I-95 Exit 50 – Caton Avenue
INDUSTRIAL FACILITY
172,575± Square Feet ◆ 7 Buildings
2.616± Acre Fenced Yard ◆ Zoned I-1, Industrial
Ideal for Creative Redevelopment
Sale On Premises
Maryland Brush Company Facility
3221 FREDERICK AVENUE
At Caton Avenue, Baltimore, MD 21229
– CANCELED –
THURSDAY, SEPTEMBER 10, 2020
AT 11:00 A.M.
NOTE: The information contained herein has been obtained from sources deemed reliable and is believed to be accurate. However, no express or implied warranty is made or may be inferred from any such representation. Dimensions, square footage and acreage contained herein are more or less. Prospective purchasers are encouraged to perform their own due diligence, in advance of the auction, regarding the permitted uses of the property.

PROPERTY:
3221 Frederick Avenue is located in the Gwynns Falls neighborhood of southwest Baltimore, equidistant from Downtown Baltimore and the Baltimore Beltway (I-695), and one mile north of I-95. The surrounding area is a mixture of residential, commercial and industrial land uses. Saint Agnes Hospital and Medical Center is about one-half mile south.
The property is believed to have been constructed as a brewery in the early twentieth century, around the same time Babe Ruth was honing his skills at the St. Mary's Industrial School for Boys (now Cardinal Gibbons), just down the street. The facility has been in continuous use since its construction. From 1989 to the present it has been used as a manufacturing plant for the Maryland Brush Company, whose operation was recently sold.
The site is ideal for single or mixed-use redevelopment. Potential uses include loft apartments or offices, warehousing, brewery, vertical farming or manufacturing.
SITE:
2.616 acres, fronting 354′ along the south side of Frederick Avenue by a depth of 328′ to Stafford Street in the rear.
The lot is fenced, paved and improved.
Public utilities- gas, electricity, public water and sewer.
Good site visibility from Frederick and Caton Avenues
Zoning I-1, Light Industrial Zoning. Light manufacturing, fabricating, processing, wholesale distributing and warehousing uses.
The property is identified as Lot 2, on Baltimore City Block 2123A. Plat (2 pages)
IMPROVEMENTS:
Seven Buildings, total 172,575 square feet of gross building area. Six of the buildings are interconnected. An office building (Building 4) is freestanding. The buildings will be vacant at the time of sale.
Buildings are of brick construction, with a mixture of concrete, steel and wood trusses. Roofing is a mixture of flat built-up and pitched shingles. Ceiling heights ranging from 12′ to 16′, with varying column spacing, 6 loading docks, 1 drive-in door, 3 elevators, 1 freight lift, gas fired steam boilers and fluorescent lighting. Flooring is a mixture of poured concrete and wood planks. Buildings are wet sprinklered, except for Building 4. The facility has heavy electrical power, believed to be 4,500 amps., 227/480 v.
| | | | |
| --- | --- | --- | --- |
| Building # | # Floors | SF/Level | Total SF |
| 1 | 6 | 3,387 | 20,322 |
| 2 | 4 | 4,860 | 19,440 |
| 3 | 2 | 4,720 | 9,440 |
| 4 (Office Building) | 4 (plus attic) | 3,130 | 12,520 |
| 7 | 4 | 3,072 | 12,288 |
| 8 | 5 (plus basement) | 15,690 | 78,450 |
| 9 | 1 (passive solar) | 20,115 | 20,115 |
| | | | 172,575 |
Note – published Baltimore City tax records indicate the facility comprises 183,524 square feet.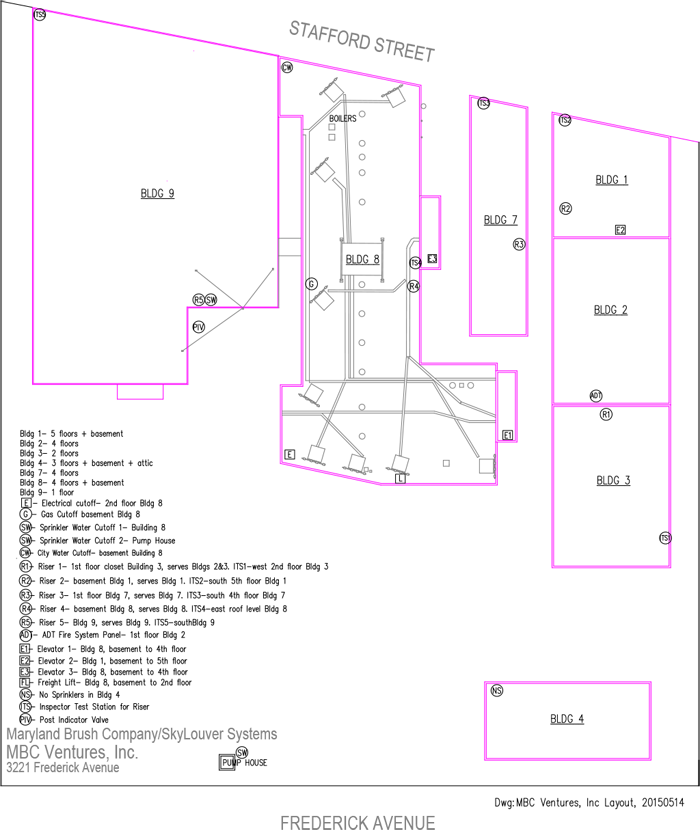 TITLE:
The property is in fee simple and sold free and clear of liens. Baltimore City Deed Book SEB 2375 Page 98. The property is sold subject to the Wireless Communication Deed of Easement and Assignment Agreement, dated March 25, 2011 and recorded in Book FMC 13463, Page 167. In addition, the property is sold subject to the Clear Channel Billboard lease extension, dated February 10, 2009, providing an annual rental of $1,500 for two billboards.
ADDITIONAL INFORMATION:
Please complete and return the Waiver and Confidentiality Agreement to receive –
Environmental Site Assessment
Deed
Wireless Agreement
Clear Channel Billboard Agreement
PUBLISHED TAX INFORMATION:
Published annual real estate taxes are $51,894.04, based on a full value assessment of $2,198,900. Purchasers may petition for a reduction in the assessment of their property in conjunction with a purchase price substantially less than the currently assessed value of the property. Purchasers are encouraged to contact the Maryland State Department of Assessments & Taxation concerning the appeals process, and may see the following link for helpful information: Assessment Appeal Process.
SUMMARY TERMS OF SALE:
Please refer to the Contract of Sale for complete terms.
A $50,000 deposit, payable by cashier's check, will be required of the Purchaser at time and place of sale. The deposit shall be increased to 10% of the purchase price within 24 hours at the Auctioneer's office. Deposit funds shall be held by A. J. Billig & Co., LLC. Balance to be paid in cash at settlement, which shall take place within 45 days. If payment of the deposit or balance does not take place within the specified time, the deposit shall be forfeited and the property may be resold at the risk and expense of the Purchaser. Interest to be charged on the unpaid purchase money, at the rate of 12% per annum, from date of contract to date of settlement. All adjustments, including taxes, all other public charges and assessments payable on a monthly or annual basis, and sanitary and/or metropolitan district charges, if any, to be adjusted for the current year to date of contract and assumed thereafter by the Purchaser. The property will be sold in "AS IS" condition, and subject to easements, agreements, restrictions or covenants of record affecting same, if any, including the Wireless Communication Deed of Easement and Assignment Agreement, dated March 25, 2011 and recorded in Book FMC 13463, Page 167 and the Clear Channel Billboard lease extension, dated February 10, 2009. Purchaser assumes the risk of loss from the date of contract forward. The Purchaser waives and releases the Seller, the Auctioneers, and their respective agents, successors and assigns from any and all claims the Purchaser and/or its successors and assigns may now have or may have in the future relating to the condition of the property, including but not limited to the environmental condition thereof. If the Seller is unable to convey good and marketable title, the Purchaser's sole remedy in law or equity shall be limited to the refund of the deposit. Upon refund of the deposit this sale shall be null and void and of no effect, and the Purchaser shall have no further claim against the Seller or Auctioneers. Recordation costs, transfer taxes and all costs incidental to settlement to be paid by the Purchaser. Time is of the essence.
No buyer's premium.
Auction conducted in collaboration with Cushman & Wakefield