ONLINE REAL ESTATE AUCTION
$350,000 Suggested Opening Bid
REISTERSTOWN
COMMERCIAL ASSEMBLAGE
4 Buildings ✦ Large Parking Lot ✦ Zoned BL
– $51,600+ Gross Scheduled Annual Income –
Known As
354-362 MAIN STREET
A/K/A 354 Main Street, 360 Main Street
& 360-362 Main Street
Near Glyndon Drive
Baltimore County, MD 21136
BIDDING OPEN:
FRIDAY, APRIL 24, 2020
BIDDING CLOSE:
TUESDAY, APRIL 28, 2020
AT 2:00 P.M.
NOTE: The information contained herein has been obtained from sources deemed reliable and is believed to be accurate. However, no express or implied warranty is made or may be inferred from any such representation. Dimensions, square footage and acreage contained herein are more or less. Prospective purchasers are encouraged to perform their own due diligence, in advance of the auction, regarding the permitted uses of the property.
LOCATION:
354-362 Main Street is located in the Reisterstown community in northwest Baltimore County. Main Street, MD-140, is the main commercial corridor in the area, existing as Reisterstown Road to the south and Westminster Pike to the north. The area has been a hub of business activity in Reisterstown for more than a century. Surrounding businesses include restaurants, automotive sales, an array of professional offices, retail businesses, religious use and the United States Post Office. Exposure at the site is excellent, with a signalized intersection immediately south, a significant number of surrounding businesses and consistent resident and visitor traffic to and from the area. According to State Highway Administration statistics, approximately 17,182 cars per day (AADT) pass the site. Existing signs in front of each of the properties utilize that exposure to the advantage of tenants or users.
The assemblage of buildings and parking offers an opportunity for either continued use of the property in a multi-tenanted capacity, or for redevelopment of the site for a variety of uses. The lot size and zoning present excellent opportunities for expansion or redevelopment in the short or long term. The properties will be offered as an entirety only.
For more information about the area, please visit:
Baltimore County Government – www.baltimorecountymd.gov
GIS Traffic Count Data – www.roads.maryland.gov
SITE:
Lot size:
The property is comprised of three parcels totaling 1.241 acres, more or less, according to public tax records. Deed records indicate a total of 1.18 acres. No price adjustment will be made for acreage larger or smaller than stated herein.
Baltimore county tax identification numbers are as follows
| | | |
| --- | --- | --- |
| Tax ID | Description | Acreage |
| 0405061055 | 354 Main Street | 0.241 acre |
| 0412020325 | Tax Map 48 Parcel 908 | 0.50 acre |
| 0419002880 | 360-362 Main Street | 0.50 acre |
| | TOTAL: | 1.241 acres |
Large curb cut on Main Street
Recorded easement for access to Glyndon Trace Drive. See additional information for a copy of the easement agreement.
Macadam and gravel parking area for 30+ vehicles
The lots are mostly level with some mature landscaping
Large open grassy area used for events
Boundary Survey – 360-362 Main Street
Aerial Photo: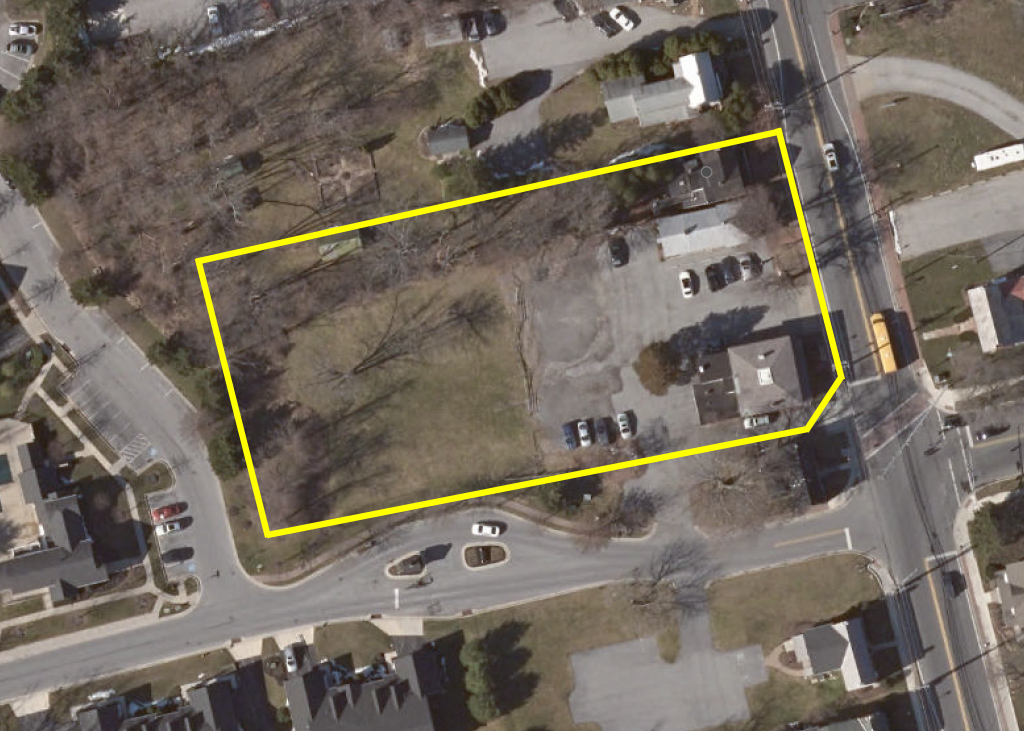 ZONING:
BL – Business Local
For more information, see: What is Zoning? – www.baltimorecountymd.govwww.baltimorecountymd.gov
Zoning Map: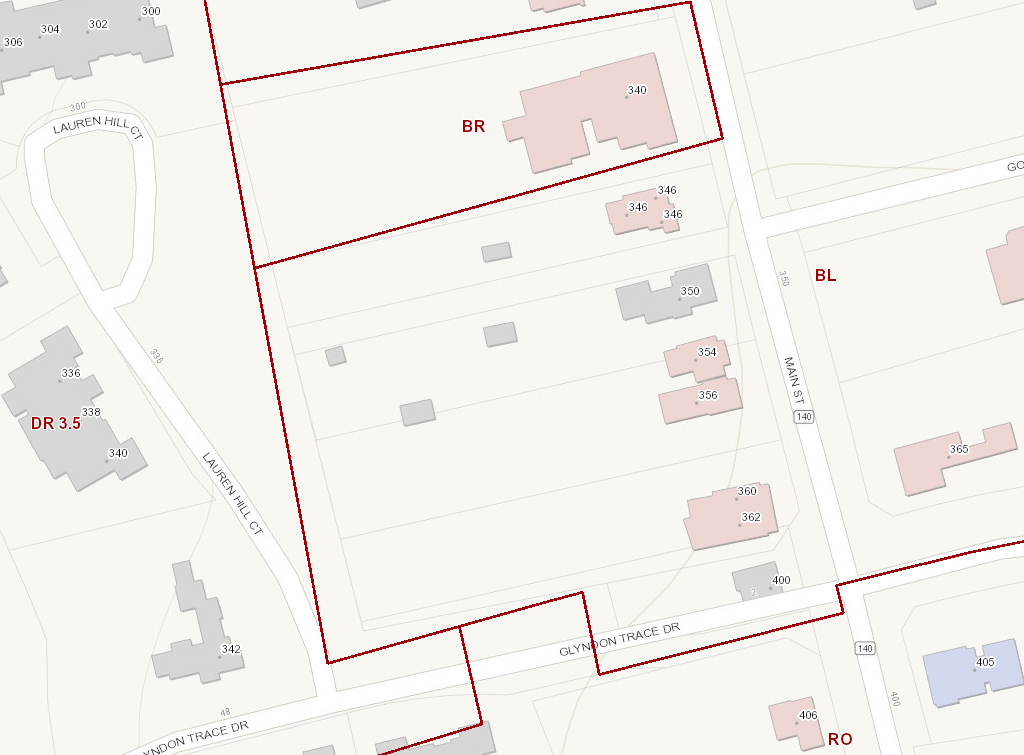 IMPROVEMENTS:
The property is improved by two freestanding frame buildings and two adjoining semi-detached buildings comprising a total of 6,744 square feet above grade plus basement space, according to public tax records. The buildings contain a total of 5 commercially tenanted spaces and one residential apartment currently rented for a total of $4,300/month with one commercial space vacant. Tenant expenses and lease terms are as noted on seller provided rent roll under Additional Information below.
354 Main Street – Two and one-half-story traditional building constructed in 1876 and containing 1,308 square feet of living area, according to public tax records. Features covered front porch, fenced courtyard, detached garage and exterior access to second floor. Radiant heat. Currently occupied by a pet grooming business paying $1,150/month.
356 Main Street – Two story shake shingle traditional building containing 2,000 square feet of living area, according to public tax records. Features covered front porch and multiple exterior entrances. Radiant heat. One gas meter, one electric meter. Currently occupied by a salon on the first floor, paying $900/month, and apartment on the second floor, occupied by a month to month tenant paying $400/month.
360-362 Main Street – Adjoining semi-detached two story buildings constructed in 1876 and containing 3,436 square feet above grade, according to public tax records. Features include separate exterior entrances for first floor spaces, and common interior entrance for second floor suites. Radiant and gas forced air heat. Underground oil tank, gas meter and electric meter. The first floor of 360 was formerly occupied by a physical therapy business paying $900/month. The first floor of 362 is occupied by an event business paying $650/month. The second floor of both buildings is occupied by an office tenant paying $1,200/month.
ADDITIONAL INFORMATION:
Please complete a Waiver and Confidentiality Agreement form to view the rent roll and leases.
TITLE:
In fee simple; sold free and clear of all liens
TAXES:
| | | | |
| --- | --- | --- | --- |
| Tax ID | Description | Annual Tax | Assessment |
| 0405061055 | 354 Main Street | $3,445.74 | $232,200 |
| 0412020325 | Tax Map 48 Parcel 908 | $3,221.90 | $196,200 |
| 0419002880 | 360-362 Main Street | $4,127.83 | $295,600 |
| | TOTAL: | $10,795.47 | $724,000 |
See Baltimore County Billing site for detailed breakouts of base County Tax, State Tax, sewer service and water distribution charges.
SUMMARY TERMS OF SALE – PLEASE REFER TO THE CONTRACT FOR THE COMPLETE TERMS OF SALE:
A $30,000 deposit, or ten percent (10%) of the Purchase Price (whichever is greater), in cash or cashier's check to be delivered to the Auctioneer's office at 6500 Falls Road, Baltimore, MD 21209, or sent by wire transfer, within 24 hours of Tuesday, April 28, 2020 at 2:00 P.M. (the bid closing). Deposit funds shall be held by A. J. Billig & Co., LLC. Balance to be paid in cash at settlement, which shall take place within 45 days . If payment of the deposit or balance does not take place within the specified time, the deposit shall be forfeited and the property may be resold at the risk and expense of the purchaser. All adjustments, including taxes, rents, all other public charges and assessments payable on a monthly or annual basis, and sanitary and/or metropolitan district charges, if any, to be adjusted for the current year to date of settlement and assumed thereafter by the purchaser. Security deposits, if any, shall be adjusted at the time of settlement. The property will be sold in "AS IS" condition, and subject to the existing leases of the tenants in place, easements, agreements, restrictions or covenants of record affecting same, if any. Purchaser assumes the risk of loss from the date of contract forward. The Purchaser waives and releases the Seller, the Auctioneers, and their respective agents, successors and assigns from any and all claims the Purchaser and/or its successors and assigns may now have or may have in the future relating to the condition of the property, including but not limited to the environmental condition thereof. If the Seller is unable to convey good and marketable title, the purchaser's sole remedy in law or equity shall be limited to the refund of the deposit. Upon refund of the deposit this sale shall be null and void and of no effect, and the purchaser shall have no further claim against the Seller or Auctioneers. Recordation costs, transfer taxes and all costs incidental to settlement to be paid by the purchaser except where otherwise mandated by local, State or Federal law. Time is of the essence. No Buyer's Premium.
Sale in Cooperation with MacKenzie Commercial Real Estate