ONLINE REAL ESTATE AUCTION
Suggested Starting Bid: $150,000
NORTH HARFORD ROAD
FREESTANDING
COMMERCIAL BUILDING
Zoned C-2: Commercial
0.27± Ac. ✦ 18± Car Parking
7,643 Sq. Ft. GBA
Known As
6826-6828 HARFORD ROAD
a/k/a 6826 Harford Road & 6826-6832 Harford Road
Near E. Northern Parkway, Corner of Kildaire Drive
Baltimore City, MD 21234
BIDDING OPEN:
FRIDAY, MARCH 20, 2020
BIDDING CLOSE:
MONDAY, MARCH 23, 2020 AT 12:00 P.M.
NOTE: The information contained herein has been obtained from sources deemed reliable and is believed to be substantially accurate. However, no express or implied warranty is made or may be inferred from any such representation. Dimensions, square footage and acreage contained herein are more or less. Prospective purchasers are encouraged to perform their own due diligence, in advance of the auction, regarding the permitted uses of the property.
LOCATION:
6826-6828 Harford Road, also known as both 6826 Harford Road and 6826-6832 Harford Road, is located in the North Harford Road neighborhood in northeast Baltimore City. The surrounding area is often referred to as Parkville or Hamilton, both references to nearby neighborhoods in the County and City, respectively. Harford Road is a primary commercial and commuter artery in northeast Baltimore, providing complimentary surrounding businesses, ample exposure and access to a significant consumer base. Nearby businesses include Wockenfuss Candies, multiple restaurants, pharmacies, automotive repair, retail storefronts, religious facilities and a variety of office users. The Hamilton – Lauraville Main Street Corridor is a short distance to the south, and is home to a number of Baltimore's best known businesses, including Koco's Pub, Zeke's Coffee and the Silver Queen Café. The Parkville commercial corridor extends to the north.
Exposure at the site is impressive, with good opportunity for signage for traffic along Harford Road. According to Maryland State Highway Administration statistics, the annual average daily traffic count is 17,352 along the corridor of Harford Road in front of the property.
For more information about the area, please visit:
https://livebaltimore.com/neighborhoods/north-harford-road/
For more information about traffic statistics nearby, please visit:
https://www.roads.maryland.gov/index.aspx?PageId=838
SITE:
Lot size: 0.27 acre, more or less
Macadam paved parking area for 18± vehicles
107'5.5″ front along Harford Road
Curb cuts on Harford Road and Kildaire Drive
Baltimore City block 5482B, lot 20 – Plat
ZONING:
Zoned C-2: Commercial. According to TransForm Zoning District Summary, C-2 zoning is oriented to "Small to medium-scale commercial use, typically located along urban corridors. Designed to accommodate pedestrians and, in some instances, the automobile. Mixed-use development is appropriate within this district."
For more information, see the Baltimore City Zoning Code.
Zoning Map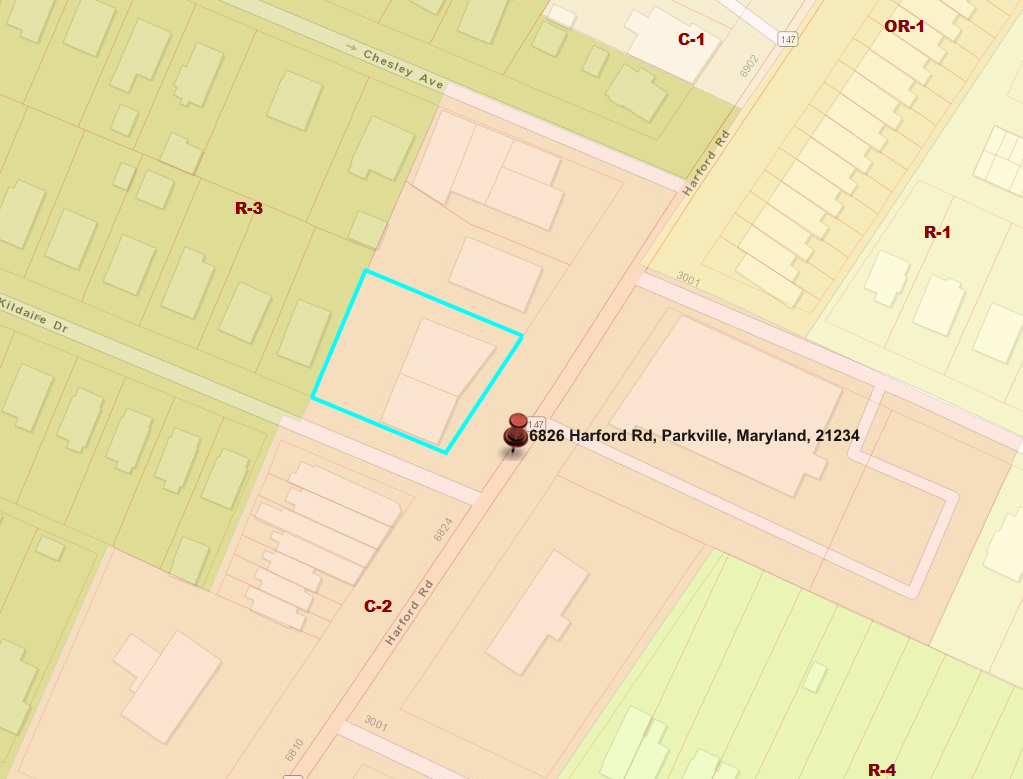 IMPROVEMENTS:
Freestanding masonry building – originally constructed in 1940 and containing 7,643 square feet of gross building area. Features include flat roof (aggregate), multiple exterior entrances and storefront/restaurant facade. The building has most recently been used as a restaurant with separate bar, restaurant and private entertaining spaces on the lower two levels. The upper floor is arranged for office or apartment use. The building needs renovation, and is suitable for further restaurant use or development for an alternative use.

TITLE:
In fee simple; being sold free and clear of all liens.
TAXES:
Published current annual real estate taxes are $7,828.12 based on a full value assessment of $331,700.
SUMMARY TERMS OF SALE:
Please see the contract of sale for complete terms.
A $15,000 deposit, or ten percent (10%) of the Purchase Price (whichever is greater), in cash or cashier's check to be delivered to the Auctioneer's office at 6500 Falls Road, Baltimore, MD 21209, or sent by wire transfer, within 24 hours of Monday, March 23, 2020 at 12:00 P.M. (the bid closing). Deposit funds shall be held by A. J. Billig & Co., LLC. Balance to be paid in cash at settlement, which shall take place within 45 days. If payment of the deposit or balance does not take place within the specified time, the deposit shall be forfeited and the property may be resold at the risk and expense of the Purchaser. Interest to be charged on the unpaid purchase money, at the rate of 12% per annum, from date of contract to date of settlement. All adjustments, including taxes, all other public charges and assessments payable on a monthly or annual basis, and sanitary and/or metropolitan district charges, if any, to be adjusted for the current year to date of contract and assumed thereafter by the Purchaser. The property will be sold in "AS IS" condition, and subject to easements, agreements, restrictions or covenants of record affecting same, if any. Purchaser assumes the risk of loss from the date of contract forward. The Purchaser waives and releases the Seller, the Auctioneers, and their respective agents, successors and assigns from any and all claims the Purchaser and/or its successors and assigns may now have or may have in the future relating to the condition of the property, including but not limited to the environmental condition thereof. If the Seller is unable to convey good and marketable title, the Purchaser's sole remedy in law or equity shall be limited to the refund of the deposit. Upon refund of the deposit this sale shall be null and void and of no effect, and the Purchaser shall have no further claim against the Seller or Auctioneers. Recordation costs, transfer taxes and all costs incidental to settlement to be paid by the Purchaser. Time is of the essence. No buyer's premium.