REAL ESTATE AUCTION
CANTON
Three Story
TOWNHOME
4 Bedrooms ✦ 2.5 Baths ✦ Roof Deck
Sale On Premises
1108 S. EAST AVENUE
Baltimore City, MD 21224
THURSDAY, MARCH 9, 2017
AT 2:00 P.M.
– Suggested Opening Bid: $325,000 –
NOTE: The information contained herein has been obtained from sources deemed reliable and is believed to be accurate. However, no express or implied warranty is made or may be inferred from any such representation. Dimensions, square footage and acreage contained herein are more or less. Prospective purchasers are encouraged to perform their own due diligence, in advance of the auction, regarding the permitted uses of the property.
LOCATION:
1108 S. East Avenue is located in the heart of the Canton neighborhood in southeast Baltimore City. Situated just one block from the Canton Square, and three blocks from the Canton Waterfront Park, the home is at the center of a vibrant neighborhood offering exceptional options for shopping, dining, physical fitness, entertainment and community events. There are two grocery stores within walking distance. Patterson Park, one of the preeminent public recreation facilities in the City, is about 7 blocks to the north. Major employment centers in Downtown Baltimore, Harbor East, Harbor Point and throughout the I-95 corridor are easily accessible.
For more information about Canton, please visit:
https://livebaltimore.com/neighborhoods/canton/
SITE:
Rectangular lot 12'6″ x 45'6″, more or less
Concrete patio
Zoning R-8, residential
All public utilities
IMPROVEMENTS:
Three story brick inside-group townhome fully renovated and expanded in 2008. Features include hardwood flooring, custom steel stairway, stainless appliances, a roof deck with outstanding views of the harbor and downtown Baltimore, and much more. The home is arranged as follows:
Exterior
Brick exterior
Vinyl-clad replacement windows
Flat rubberoid roof
Aluminum downspouts and rain gutters
Small decks/landings on each level
Well sized roof deck featuring a sink with both hot and cold water, as well as a natural gas hook-up for a grill or space heater
Interior
First Floor
Open concept living room dining room combination – hardwood floor

Kitchen with quartz countertop, stainless Energy Star appliances – hardwood floor

Powder room – ceramic tile floor

Walk-out to rear patio
Second Floor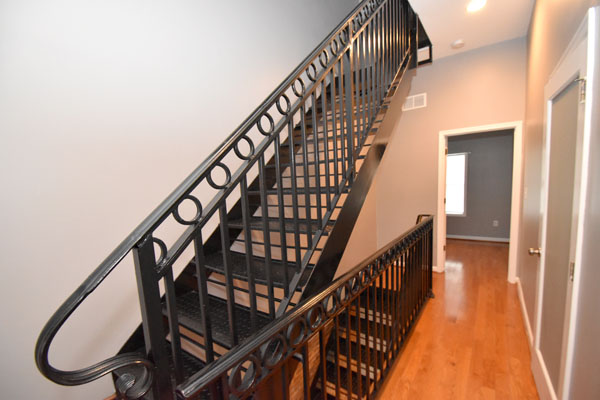 Two bedrooms – hardwood floors

Full hall bath – ceramic tile floor, shower/tub

Third Floor
Two bedrooms – hardwood floors

Full hall bath – ceramic tile floor, shower/tub

Basement – partially finished with laundry (washer & dryer) and utility areas
Mechanical
Gas forced air heat
CAC
Gas 40 gallon water heater
200 amp. electrical service
TITLE:
$76 ground rent (unregistered); and sold free and clear of liens.
TAXES:
Published annual real estate taxes are $3,779.14 based on a full value assessment of $160,133.
TERMS OF SALE:
A $25,000 deposit, payable by cashier's check, will be required of the purchaser at time and place of sale. The deposit shall be increased to 10% of the purchase price within 24 hours at the Auctioneer's office. Balance to be paid in cash at settlement, which shall take place within 45 days. If payment of the deposit or balance does not take place within the specified time, the deposit shall be forfeited and the property may be resold at the risk and expense of the purchaser. Interest to be charged on the unpaid purchase money, at the rate of 12% per annum, from date of contract to date of settlement. All adjustments, including taxes, ground rent, all other public charges and assessments payable on a monthly or annual basis, and sanitary and/or metropolitan district charges, if any, to be adjusted for the current year to date of contract and assumed thereafter by the purchaser. The property will be sold in "AS IS" condition, and subject to easements, agreements, restrictions or covenants of record affecting same, if any. Purchaser assumes the risk of loss from the date of contract forward. The purchaser agrees to waive the right of inspection for lead paint, as provided under current Federal and State law. If the Seller is unable to convey good and marketable title, the purchaser's sole remedy in law or equity shall be limited to the refund of the deposit. Upon refund of the deposit this sale shall be null and void and of no effect, and the purchaser shall have no further claim against the Seller or Auctioneers. Recordation costs, transfer taxes and all costs incidental to settlement to be paid by the purchaser except where otherwise mandated by local, State or Federal law. Time is of the essence.
NO BUYER'S PREMIUM!