REAL ESTATE AUCTION
UPPER MARLBORO
27± ACRE
RESIDENTIAL PARCEL
Sale on Premises
5510 OLD CRAIN HIGHWAY
Prince George's County Tax IDs:
0235184 & 0235176
Near School Lane
Prince George's County, MD 20772
THURSDAY, MARCH 14, 2019
AT 12:15 P.M.
– Suggested Opening Bid: $100,000 –
NOTE: The information contained herein has been obtained from sources deemed reliable and is believed to be accurate. However, no express or implied warranty is made or may be inferred from any such representation. Dimensions, square footage and acreage contained herein are more or less. Prospective purchasers are encouraged to perform their own due diligence, in advance of the auction, regarding the permitted uses of the property.
LOCATION:
5510 Old Crain Highway is located in Upper Marlboro, the County Seat of Prince George's County. The property is situated immediately south of the County complex that houses the Prince George's County Board of Education, as well as the Upper Marlboro Town Hall and Police Department. The Upper Marlboro Town Center is approximately one-half mile east of the property. Major commuter routes are nearby, including Pennsylvania Avenue (MD-4), Crain Highway (US-301), Old Largo Road (MD-202) and Ritchie-Marlboro Road. Major employers are in close proximity, including those in the Upper Marlboro Town Center, those surrounding Joint Base Andrews (6.5 miles west) and Washington, D.C. (12 miles west).
SITE:
The property comprises 27.03 acres, according to public tax records. The lot is mostly wooded.
Prince George's County Tax IDs: 0235184 & 0235176
Approximately 66′ frontage along Old Crain Highway
According to PGAtlas, the property is within W-4 and S-4 Community System districts, which is stated to be "Adequate for Development Planning."
GIS map with contours: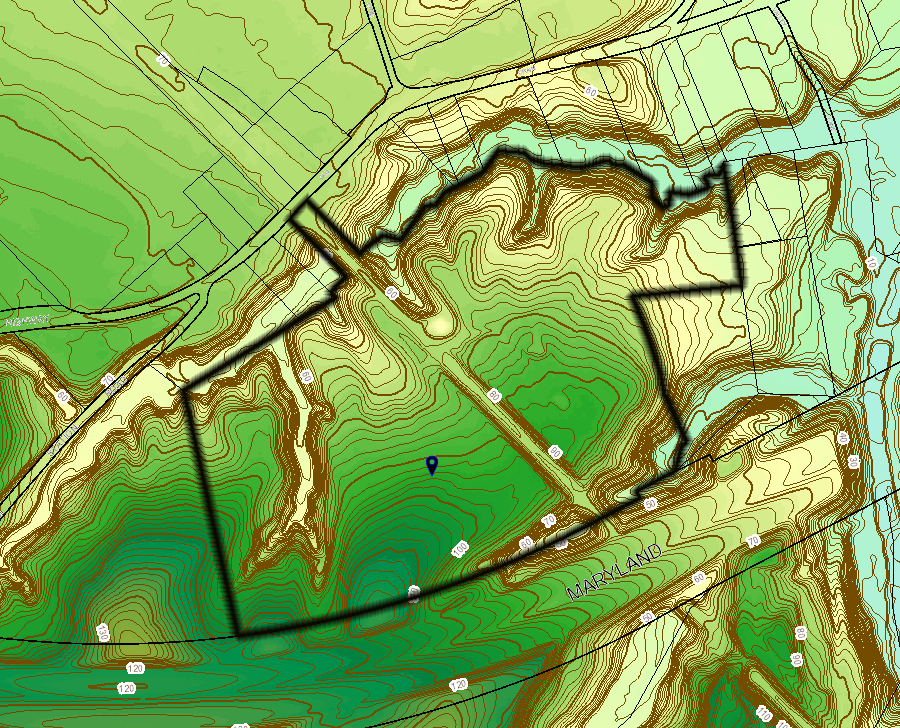 GIS map with water and sewer districts: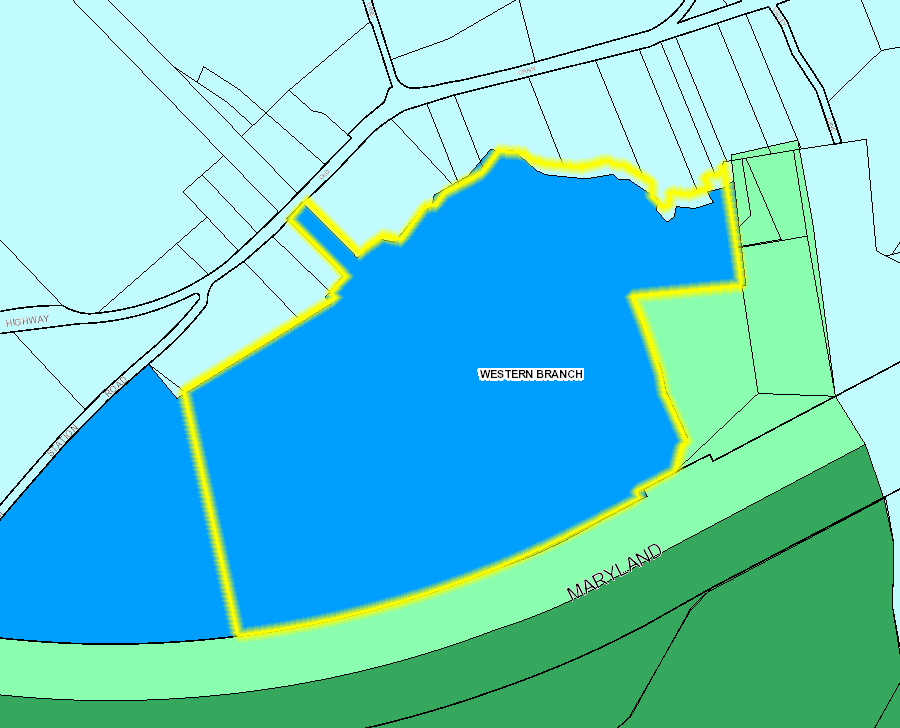 ZONING:
Zoned R-R, Rural Residential. According to the Prince George's County Zoning Code (Section 27-428), "The purposes of the R-R Zone are: (A) To provide for and encourage variation in the size, shape, and width of one-family detached residential subdivision lots, in order to better utilize the natural terrain; (B) To facilitate the planning of one-family residential developments with moderately large lots and dwellings of various sizes and styles; (C) To encourage the preservation of trees and open spaces; and (D) To prevent soil erosion and stream valley flooding."
GIS Zoning Map: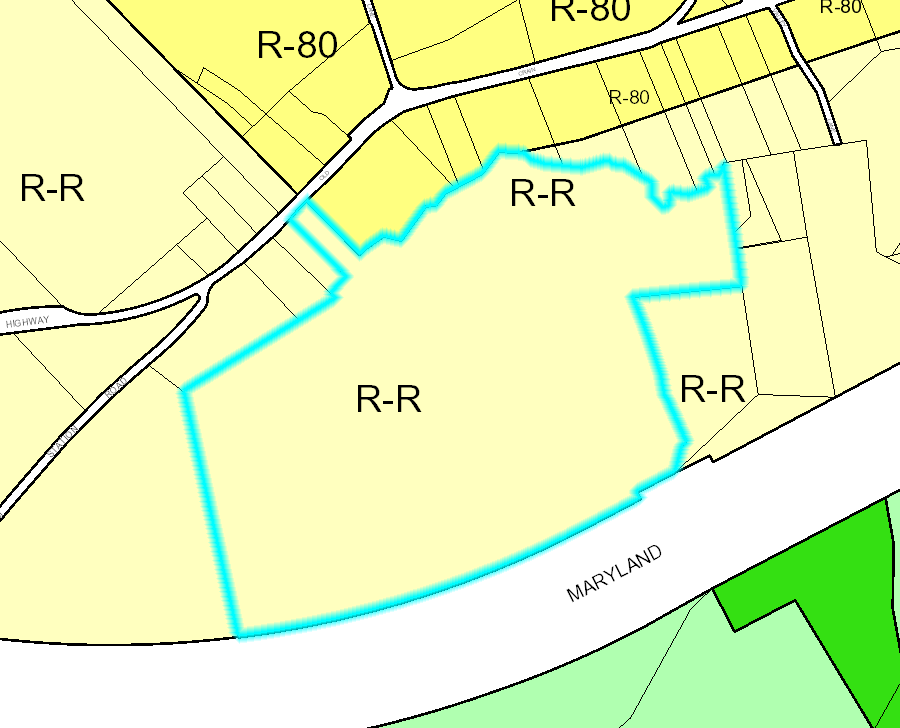 For more information about Prince George's County Zoning, please visit:
http://www.pgplanning.org/166/Planning-Department
TITLE:
The property is in fee simple; sold free and clear of liens.
TAXES:
Published annual real estate taxes are:
Tax ID 0235184:

$2,317.38

based on a full value assessment of $141,800.00

Tax ID 0235176:

$2,343.17

based on a full value assessment of

$134,034.00

Total:

$4,660.55

$275,834.00
Purchasers may petition for a reduction in the assessment of their property in conjunction with a purchase price substantially less than the currently assessed value of the property. Purchasers are encouraged to contact the Maryland State Department of Assessments & Taxation concerning the appeals process, and may see the following link for helpful information:
https://dat.maryland.gov/realproperty/Pages/Assessment-Appeal-Process.aspx
SUMMARY TERMS OF SALE:
Please refer to the contract of sale for complete terms and conditions. A $10,000 deposit, payable by cashier's check, will be required of the purchaser at time and place of sale. The deposit shall be increased to 10% of the purchase price within 24 hours at the Auctioneer's office. Deposit funds shall be held by A. J. Billig & Co., LLC. Balance to be paid in cash at settlement, which shall take place within 45 days. If payment of the deposit or balance does not take place within the specified time, the deposit shall be forfeited and the property may be resold at the risk and expense of the purchaser. Interest to be charged on the unpaid purchase money, at the rate of 12% per annum, from date of contract to date of settlement. All adjustments, including taxes, all other public charges and assessments payable on a monthly or annual basis, and sanitary and/or metropolitan district charges, if any, to be adjusted for the current year to date of contract and assumed thereafter by the purchaser. The property will be sold in "AS IS" condition, and subject to easements, agreements, restrictions or covenants of record affecting same, if any. Purchaser assumes the risk of loss from the date of contract forward. If the Seller is unable to convey good and marketable title, the purchaser's sole remedy in law or equity shall be limited to the refund of the deposit. Upon refund of the deposit this sale shall be null and void and of no effect, and the purchaser shall have no further claim against the Seller or Auctioneers. Recordation costs, transfer taxes, including agricultural transfer tax, if any, and all costs incidental to settlement to be paid by the purchaser except where otherwise mandated by local, State or Federal law. Time is of the essence.
No Buyer's Premium!