REAL ESTATE AUCTION
RANDALLSTOWN
FREESTANDING OFFICE
& APARTMENT BUILDING
Zoned BR-AS, Commercial
On 0.55 Acre ★ High Traffic Count
Sale On Premises
9506 LIBERTY ROAD
Near Owings Mills Boulevard
Baltimore County, MD 21133
TUESDAY, JANUARY 15, 2019
AT 11:00 A.M.
– Suggested Opening Bid: $100,000 –
NOTE: The information contained herein has been obtained from sources deemed reliable and is believed to be accurate. However, no express or implied warranty is made or may be inferred from any such representation. Dimensions, square footage and acreage contained herein are more or less. Prospective purchasers are encouraged to perform their own due diligence, in advance of the auction, regarding the permitted uses of the property.
LOCATION:
9506 Liberty Road is located in the Randallstown area of western Baltimore County. The property is situated a short distance southeast of the intersection of Owings Mills Boulevard. Surrounding properties are a mix of commercial and residential uses, and include new construction residences, religious facilities, retail and automotive businesses. The Baltimore Beltway (I-695) is approximately 4 miles southeast, and I-795 is approximately 3 miles north.
The location is ideal for both commercial and residential uses, with exceptional access to nearby services and employment centers. According to State Highway Administration GIS Traffic Count Map, the annual average daily traffic count along Liberty Road in front of the property is 26,580 vehicles.
For more information about the area, please visit:
https://www.baltimorecountymd.gov/
https://bcgis.baltimorecountymd.gov/myneighborhood/
For more information about traffic statistics nearby, please visit:
https://www.roads.maryland.gov/index.aspx?PageId=838
SITE:
Lot size – 0.55 acre, according to public tax records
The lot fronts approximately 95′ on Liberty Road
Detached storage building
Parking area for 3-4 vehicles
Public Water & Private Septic
ZONING:
BR-AS – Business Roadside, Automotive Service District
DR 16 – Residential (small portion of the rear of the property)
My Neighborhood Zoning Map: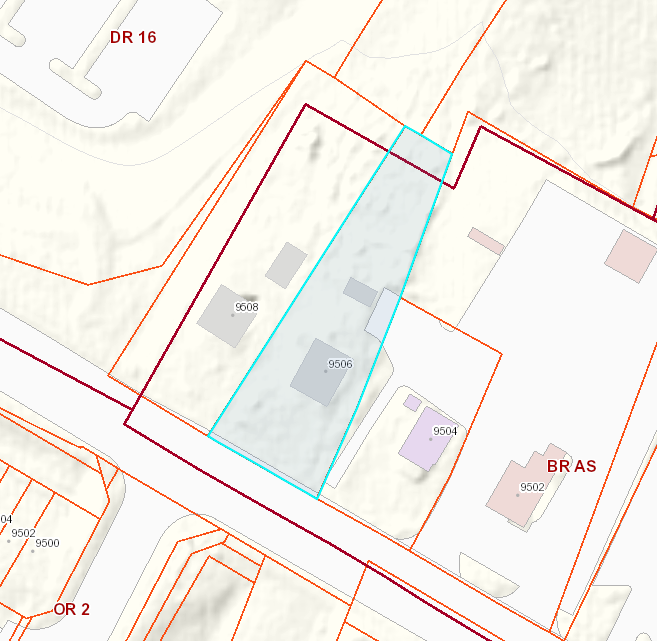 For more information about Baltimore County zoning, please visit:
https://www.baltimorecountymd.gov/Agencies/planning/zoning/index.html
IMPROVEMENTS:
Two story freestanding building – constructed in 1939, containing 1,716 square feet of living area plus basement space, according to public tax records. The building was used as a dentist office on the first floor for approximately 40 years, and an apartment on the second floor. The current arrangement is well situated for renovation for commercial use, mixed use or as a residence. Alternatively, the site is well positioned for further development.
Exterior
Clapboard siding
Asphalt shingle roof
Wood windows
Aluminum down spouts and rain gutters
Front and side entrances
Interior
The first floor contains a reception area, waiting area, kitchen, office (or bedroom), full bath and a large closet.
The second floor is arranged as an apartment, with a bedroom, living room, kitchen and full bath.
Mechanical/Basement
Unfinished basement
Gas boiler (installed c. 2015)
Gas 40 gallon water heater (installed c. 2014)
200 amp. electrical service
ANNUAL REAL ESTATE TAXES:
Published annual real estate taxes are $2,343.10, based on a full value tax assessment of $173,400.
TITLE:
The property is in fee simple; and is being sold free and clear of all liens.
SUMMARY TERMS OF SALE – PLEASE REFER TO THE CONTRACT FOR THE COMPLETE TERMS OF SALE:
A $10,000 deposit, payable by cashier's check, will be required of the purchaser at time and place of sale. The deposit shall be increased to 10% of the purchase price within 24 hours at the Auctioneer's office. Deposit funds shall be held by A. J. Billig & Co., LLC. Balance to be paid in cash at settlement, which shall take place within 45 days. If payment of the deposit or balance does not take place within the specified time, the deposit shall be forfeited and the property may be resold at the risk and expense of the purchaser. Interest to be charged on the unpaid purchase money, at the rate of 12% per annum, from date of contract to date of settlement. All adjustments, including taxes, all other public charges and assessments payable on a monthly or annual basis, and sanitary and/or metropolitan district charges, if any, to be adjusted for the current year to date of contract and assumed thereafter by the purchaser. The property will be sold in "AS IS" condition, and subject to easements, agreements, restrictions or covenants of record affecting same, if any. Purchaser assumes the risk of loss from the date of contract forward. If the Seller is unable to convey good and marketable title, the purchaser's sole remedy in law or equity shall be limited to the refund of the deposit. Upon refund of the deposit this sale shall be null and void and of no effect, and the purchaser shall have no further claim against the Seller or Auctioneers. Recordation costs, transfer taxes and all costs incidental to settlement to be paid by the purchaser except where otherwise mandated by local, State or Federal law. Time is of the essence.
NO BUYER'S PREMIUM!