OWINGS MILLS
c. 1899
TRADITIONAL HOME
On 1.08± Acres
ZONED: DR 16 & 5.5
– Redevelopment Potential –
Sale on Premises:
4500 COYLE ROAD
Corner Lyons Mill Road
Baltimore County, MD 21117
NOTE: The information contained herein has been obtained from sources deemed reliable and is believed to be accurate. However, no express or implied warranty is made or may be inferred from any such representation. Dimensions, square footage and acreage contained herein are more or less. Prospective purchasers are encouraged to perform their own due diligence, in advance of the auction, regarding the permitted uses of the property.
LOCATION:
4500 Coyle Road is located in Owings Mills in northwest Baltimore County. The property is situated along Lyons Mill Road, just west of Owings Mills Boulevard. Significant development has been going on in the area for the last several years, including a number of new home projects along the Lyons Mill Road corridor, Metro Centre, Foundry Row and the Owings Mills Mall redevelopment project. The area is well known for convenient access to I-795, I-695, shopping and dining options. According to bcps.org, nearby schools are Lyons Mill Elementary, Deer Park Middle Magnet and New Town High.
The property comprises a little over one acre of land, most of which is located in a DR 16 residential district, providing the potential for redevelopment of the property for multiple single family homes, townhomes, apartments or assisted living. Whether as a redevelopment project, a renovation project or a home project for an owner occupant, the auction presents an excellent opportunity for buyers of all types.
For more information about Baltimore County, please visit:
baltimorecountymd.gov
bcps.org
and
myneighborhood.baltimorecountymd.gov
Tax Map: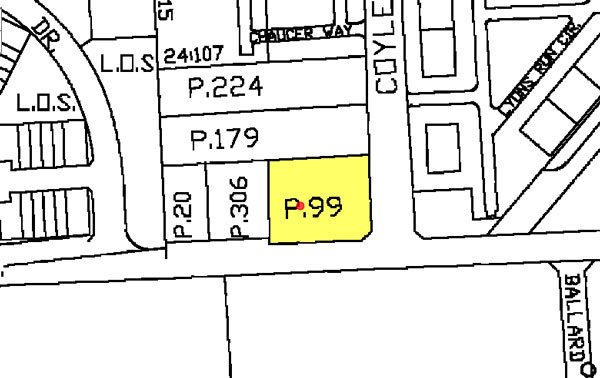 SITE:
Lot size: 1.08 acre, more or less
The lot fronts on both Coyle Road and Lyons Mill Road
Asphalt driveway with large paved parking area
Shed
Public water and sewer are believed to be in the property.
Baltimore County GIS Map: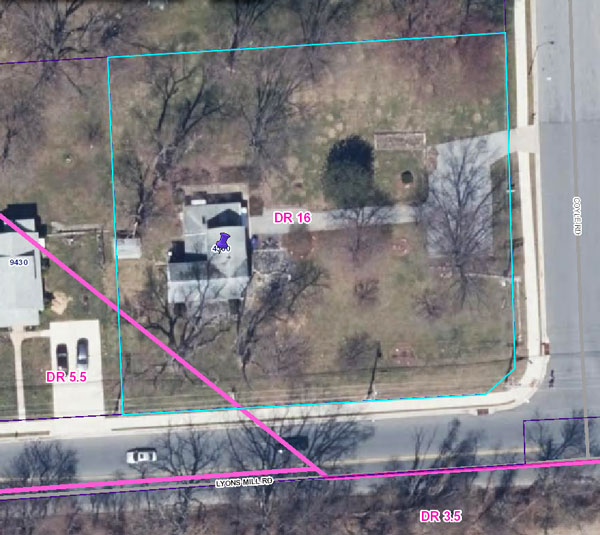 Zoned:
DR-16 – Residential – 16 density units/acre
DR-5.5 – Residential – 5.5 dwelling units/acre
For more information about Baltimore County zoning, please visit:
http://www.baltimorecountymd.gov/Agencies/planning/zoning/citizensguide.html
IMPROVEMENTS:
Two story colonial aluminum sided home – constructed in 1899, containing 2,191 square feet of living area and 832 square feet of basement space. The home features vinyl clad replacement windows, covered front porch, aluminum awnings and is arranged as follows: large kitchen with breakfast area, dining room (carpet), full bathroom, laundry room, living room (carpet) and bedroom, on the first floor; three bedrooms and bath, on the second floor; unfinished cellar basement.
TAXES:
Published annual real estate taxes are $3,027, based on a full value tax assessment of $171,500. This includes a special assessment of $1,012.54 per year. Purchasers may petition for a reduction in the assessment of their property in conjunction with a purchase price substantially less than the currently assessed value of the property. Purchasers are encouraged to contact the Maryland State Department of Assessments & Taxation concerning the appeals process, and may see the following link for helpful information:
http://dat.maryland.gov/realproperty/Pages/Assessment-Appeal-Process.aspx
TITLE:
The parcel is in fee simple and sold free and clear of liens.
TERMS OF SALE:
A $10,000 deposit, payable by cashier's check, will be required of the Purchaser at time and place of sale. The deposit shall be increased to 10% of the purchase price within 24 hours at the Auctioneer's office. Balance to be paid in cash at settlement, which shall take place within 45 days. If payment of the deposit or balance does not take place within the specified time, the deposit shall be forfeited and the property may be resold at the risk and expense of the Purchaser. Interest to be charged on the unpaid purchase money, at the rate of 12% per annum, from date of contract to date of settlement. All adjustments, including taxes, all other public charges and assessments payable on a monthly or annual basis, and sanitary and/or metropolitan district charges, if any, to be adjusted for the current year to date of contract and assumed thereafter by the Purchaser. The property will be sold in "AS IS" condition, and subject to easements, agreements, restrictions or covenants of record affecting same, if any. The Purchaser agrees to waive their right of inspection for lead paint, as provided under current Federal and State law. Purchaser assumes the risk of loss from the date of contract forward. The Purchaser waives and releases the Seller, the Auctioneers, and their respective agents, successors and assigns from any and all claims the Purchaser and/or its successors and assigns may now have or may have in the future relating to the condition of the property, including but not limited to the environmental condition thereof. If the Seller is unable to convey good and marketable title, the Purchaser's sole remedy in law or equity shall be limited to the refund of the deposit. Upon refund of the deposit this sale shall be null and void and of no effect, and the Purchaser shall have no further claim against the Seller or Auctioneers. Recordation costs, transfer taxes and all costs incidental to settlement to be paid by the Purchaser. Time is of the essence.
No Buyer's Premium!