REAL ESTATE AUCTION
Suggested Starting Bid: $1,000,000
– I-97 CORRIDOR –
COMMERCIAL
DEVELOPMENT SITE
3.1± ACRES ♦ ZONED C-4
Sale On Premises
8358 VETERANS HIGHWAY
Adjoining I-97 (Between Exits 10 & 12)
Millersville, Anne Arundel County, MD 21108
WEDNESDAY, JUNE 19, 2019
AT 11:00 A.M.
NOTE: The information contained herein has been obtained from sources deemed reliable and is believed to be substantially accurate. However, no express or implied warranty is made or may be inferred from any such representation. Dimensions, square footage and acreage contained herein are more or less. Prospective purchasers are encouraged to perform their own due diligence, in advance of the auction, regarding the permitted uses of the property.
LOCATION:
8358 Veterans Highway is located in the Millersville area of Anne Arundel County. The area is strategically located between Baltimore and Annapolis, in close proximity to BWI Airport, and with nearby access to a number of major highways and other major commuter routes. In addition to I-97, MD-100, MD-32, MD-2 (Ritchie Highway) and MD-175 (Annapolis Road) are all within a few miles. The Capital Beltway (I-495) is approximately 25 miles southwest, providing additional access throughout the Washington D.C. metropolitan area. The property sits a short distance north of Benfield Boulevard (Exit 10 off I-97). The west side of the property adjoins I-97. Surrounding properties include automotive services, offices, self-storage and a variety of retail businesses.
The site presents an opportunity for substantial exposure along two routes with substantial traffic volume, and zoning that allows for an array of commercial uses. A number of properties along Veterans Highway have signs visible along I-97. According to the Maryland State Highway Administration, the annual average daily traffic count is 129,781 along the corridor of I-97 along the west side of the property, and 20,364 along Veterans Highway.
SITE:
Clear, mostly level lot comprising 3.10 acres, more or less
Tax ID: 400090047600
The parcel fronts approximately 400′ along the I-97 Right-of-Way and 350′ along Veterans Highway. Five curb cuts on Veterans Highway. Additional access potential from the access road (Crossover Road) along the north side of the property.
The property previously received approval for the construction of a shopping center containing 26,070 square feet above grade and 3,960 square feet of basement space. Additional concept drawings for a restaurant and multiple pad sites have also been prepared.
Zoning C4 – Highway Commercial District. According to Anne Arundel County Zoning Classifications Guide:
"This District is generally intended for larger scale auto-oriented retail and service businesses along or near major traffic routes that serve local and regional residents as well as the traveling public. In addition to most commercial uses found in the C3 zone, automobile, truck, recreational vehicle and boat sales, rental and major repair facilities may be located in this District. Minimum lot size is 10,000 square feet. Maximum lot coverage by structures and parking is 85%. Maximum Floor Area Ratio is 1.0. Maximum height is 60 feet based on minimum setbacks and can increase to 72 feet provided setbacks are increased as per formula."
Link for Anne Arundel County Zoning Information:
https://www.aacounty.org/our-county/county-code/forms-and-publications/Article18.pdf
Public utilities are available – water, sewer, gas, electricity, internet
Zoning Map: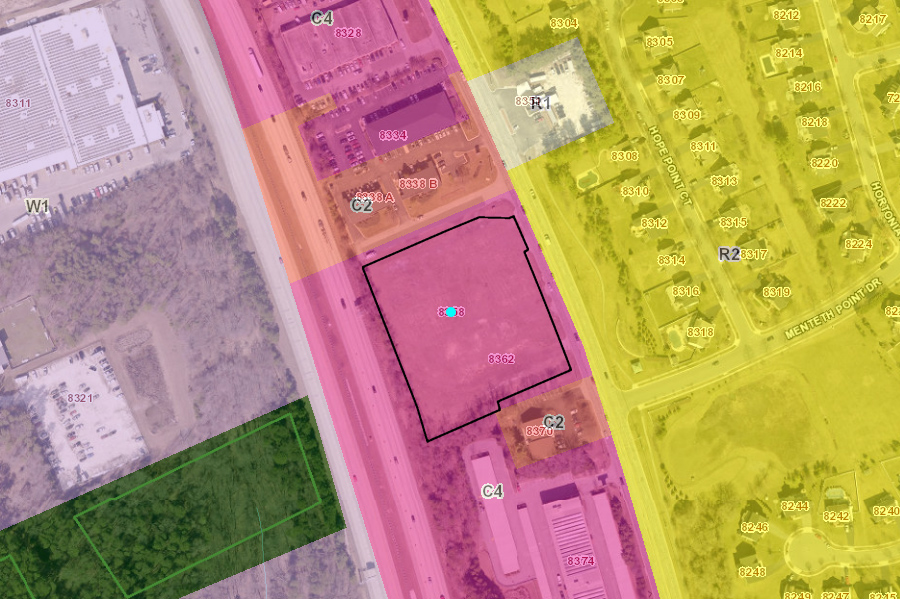 ADDITIONAL INFORMATION IS AVAILABLE:
Concept drawings, engineering report and storm water management report are available electronically. Additional building plans, drawings and larger format documents are available at our office.
Please complete the Waiver and Confidentiality Agreement form to obtain copies of seller provided documents.
TITLE:
In fee simple and sold free and clear of liens. Anne Arundel County Deed Book 19431, Page 662.
TAXES:
Published current annual real estate taxes are $13,963.34 based on a full value assessment of $1,550,000.
SUMMARY TERMS OF SALE:
Please see the sample contract of sale for complete terms.
A $100,000 deposit, payable by cashier's check, will be required of the Purchaser at time and place of sale. The deposit shall be increased to 10% of the purchase price within 24 hours at the Auctioneer's office. Deposit funds shall be held by A. J. Billig & Co., LLC. Balance to be paid in cash at settlement, which shall take place within 45 days. If payment of the deposit or balance does not take place within the specified time, the deposit shall be forfeited and the property may be resold at the risk and expense of the Purchaser. Interest to be charged on the unpaid purchase money, at the rate of 12% per annum, from date of contract to date of settlement. All adjustments, including taxes, all other public charges and assessments payable on a monthly or annual basis, and sanitary and/or metropolitan district charges, if any, to be adjusted for the current year to date of contract and assumed thereafter by the Purchaser. The property will be sold in "AS IS" condition, and subject to easements, agreements, restrictions or covenants of record affecting same, if any. Purchaser assumes the risk of loss from the date of contract forward. The Purchaser waives and releases the Seller, the Auctioneers, and their respective agents, successors and assigns from any and all claims the Purchaser and/or its successors and assigns may now have or may have in the future relating to the condition of the property, including but not limited to the environmental condition thereof. If the Seller is unable to convey good and marketable title, the Purchaser's sole remedy in law or equity shall be limited to the refund of the deposit. Upon refund of the deposit this sale shall be null and void and of no effect, and the Purchaser shall have no further claim against the Seller or Auctioneers. Recordation costs, transfer taxes and all costs incidental to settlement to be paid by the Purchaser. Time is of the essence. A 5% buyer's premium will be added to the final bid price.