REAL ESTATE AUCTION
HAMPDEN
FREESTANDING BUILDING,
WAREHOUSE & 4 TOWNHOMES
– 0.31± Acre Total –
– Exceptional Development Potential –
Known As:
3423, 3425, 3427, 3429 & 3435
CHESTNUT AVENUE
Baltimore City, MD 21211
Sale On Premises
THURSDAY, SEPTEMBER 12, 2019
AT 11:00 A.M.
NOTE: The information contained herein has been obtained from sources deemed reliable and is believed to be accurate. However, no express or implied warranty is made or may be inferred from any such representation. Dimensions, square footage and acreage contained herein are more or less. Prospective purchasers are encouraged to perform their own due diligence, in advance of the auction, regarding the permitted uses of the property.
LOCATION:
The properties are located in the Hampden Neighborhood along Chestnut Avenue, a short distance south of The Avenue (36th Street). The corridor features an array of dining options, retail storefronts, entertainment and neighborhood events. During the holidays, the iconic Miracle on 34th Street, a block of holiday lights and decorations, happens just a few yards away from the properties. Many of Baltimore City's cornerstones are also within close proximity, including Wyman Park, Druid Hill Park, the newly renovated Rotunda building, Johns Hopkins University and Loyola University of Maryland.
Hampden and the surrounding neighborhoods of Medfield, Woodberry, Remington and Wyman Park have been the site of many of the most exciting developments in Baltimore City over the last decade. The aforementioned Rotunda project, Union Collective, renovation and expansion of the Robert Poole Building, Mill No. 1 and the Fox Building are just a handful of examples of the activity going on nearby. A substantial number of new homes, renovated homes and new businesses compliment the array of larger development projects.
This collection of properties provides an opportunity for a comprehensive redevelopment of the site, updating and rehabilitation of the buildings in their current arrangement and a variety of other suitable concepts. The central Hampden location, surrounding variety of homes and business, and convenient access throughout the City makes the site prime for both users and developers of all types.
For more information, please see:
https://livebaltimore.com/neighborhoods/hampden/
SITE:
| | |
| --- | --- |
| PROPERTY | LOT SIZE |
| 3423 Chestnut Avenue | 14′ x 100′ |
| 3425 Chestnut Avenue | 14′ x 100′ |
| 3427 Chestnut Avenue | 13′ x 100′ |
| 3429 Chestnut Avenue | 7,466 square feet |
| 3435 Chestnut Avenue | 2,115.65 square feet |
All public utilities
Baltimore City Block Plat:
Click for larger version (pdf)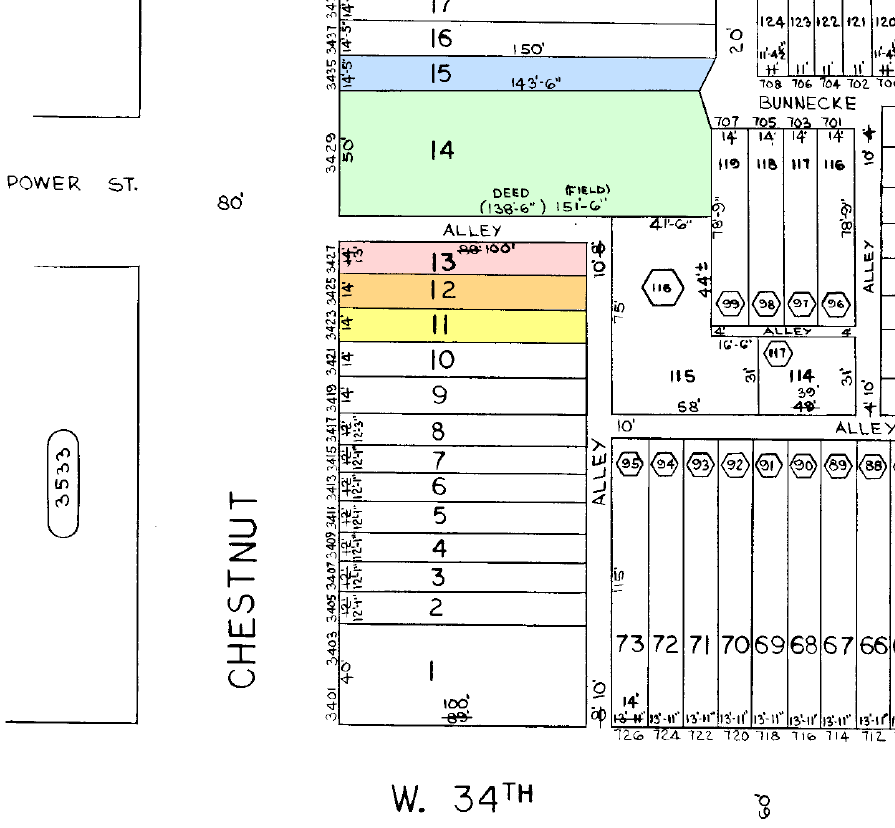 Zoning –
R7 Residential as to 3423, 3425 & 3427
R6 Residential as to 3429 & 3435
Zoning Map: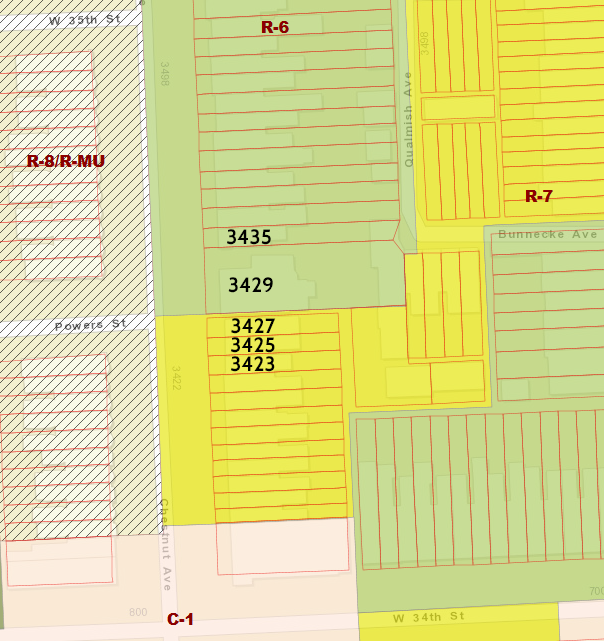 IMPROVEMENTS:
3423 Chestnut Avenue
Three story inside-group townhome constructed in 1880, containing 1,710 square feet of living area and 420 square feet of basement space, according to public records. Needs full renovation.
3425 Chestnut Avenue
Three story inside-group townhome constructed in 1880, containing 1,692 square feet of living area and 420 square feet of basement space, according to public records. Home contains living room, dining room, half bathroom and kitchen with laundry area, on first floor; bedroom with full bath and bonus room, on second floor; two carpet bedrooms with ceiling fans, on third floor.
MDE Lead Inspection Certificate
3427 Chestnut Avenue
Three story end-of-group townhome constructed in 1880, containing 1,612 square feet of living area plus basement, according to public records. Needs full renovation.
3429 Chestnut Avenue
Free standing building containing 3,579 estimated interior square feet and semi-detached warehouse building containing 2,480 estimated interior square feet. Second floor contains 5 offices with hardwood floors, conference area and one bathroom.
3435 Chestnut Avenue
Two story end-of-group covered porchfront townhome constructed in 1880, containing 1,104 square feet of living area and 552 square feet of basement space. Needs full renovation.
TAXES:
Current annual real estate taxes are:
| | | |
| --- | --- | --- |
| PROPERTY | ANNUAL TAX | ASSESSMENT |
| 3423 Chestnut Avenue | $2,891 | $122,500 |
| 3425 Chestnut Avenue | $3,599 | $152,500 |
| 3427 Chestnut Avenue | $1,149.32 | $48,700 |
| 3429 Chestnut Avenue | $4,720 | $200,000 |
| 3435 Chestnut Avenue | $849.60 | $36,000 |
TITLE:
The properties are in fee simple; sold free and clear of all liens
MANNER OF SALE:
The properties will be offered separately, in groups and as an entirety. Specific offerings will be announced at the time of auction based on bidder registration.
SUMMARY TERMS OF SALE – PLEASE REFER TO THE CONTRACT FOR THE COMPLETE TERMS OF SALE:
A $10,000 deposit for each property, $20,000 for 3429 Chestnut Avenue and $60,000 if sold as an entirety, payable by cashier's check, will be required of the purchaser at time and place of sale. The deposit shall be increased to 10% of the purchase price within 24 hours, at the Auctioneer's office. Deposit funds shall be held by A. J. Billig & Co., LLC. Balance to be paid in cash at settlement, which shall take place within 45 days. If payment of the deposit or balance does not take place within the specified time, the deposit shall be forfeited and the property may be resold at the risk and expense of the purchaser. Interest to be charged on the unpaid purchase money, at the rate of 12% per annum, from date of contract to date of settlement. All adjustments, including taxes, all other public charges and assessments payable on a monthly or annual basis, and sanitary and/or metropolitan district charges, if any, to be adjusted for the current year to date of contract and assumed thereafter by the purchaser. The property will be sold in "AS IS" condition, and subject to easements, agreements, restrictions or covenants of record affecting same, if any. Purchaser assumes the risk of loss from the date of contract forward. The purchaser agrees to waive the right of inspection for lead paint, as provided under current Federal and State law. The Purchaser waives and releases the Seller, the Auctioneers, and their respective agents, successors and assigns from any and all claims the Purchaser and/or its successors and assigns may now have or may have in the future relating to the condition of the property, including but not limited to the environmental condition thereof. If the Seller is unable to convey good and marketable title, the purchaser's sole remedy in law or equity shall be limited to the refund of the deposit. Upon refund of the deposit this sale shall be null and void and of no effect, and the purchaser shall have no further claim against the Seller or Auctioneers. Recordation costs, transfer taxes and all costs incidental to settlement to be paid by the purchaser except where otherwise mandated by local, State or Federal law. Time is of the essence. A 5% buyer's premium will be added to the final bid price.
Buyer acknowledges that it is the intention of the Seller to create an IRS Section 1031 Tax Deferred Exchange (the "Exchange") and that the Seller's rights and obligations under this Contract may be assigned to a qualified intermediary (the "Intermediary") to be designated by the Seller to facilitate such Exchange. Buyer agrees to fully cooperate with the Seller and Intermediary, at no additional cost of liability to the Buyer, to enable Seller to utilize the contemplated Exchange.