Louis I. Kaplan, Attorney
NUSINOV SMITH, LLP
6225 Smith Avenue, Suite 200B
Baltimore, MD 21209
ESTATE AUCTION
– $150,000 Suggested Opening Bid –
GLEN BURNIE
"Parke West Addition"
TWO STORY
COLONIAL HOME
4 Bedrooms ◆ 3 Baths ◆ Garage
Handicap Accessible
Sale On Premises
707 SNOWDON LANE
Anne Arundel County, MD 21061
THURSDAY, SEPTEMBER 28, 2017
AT 11:00 A.M.
NOTE: The information contained herein has been obtained from sources deemed reliable and is believed to be accurate. However, no express or implied warranty is made or may be inferred from any such representation. Dimensions, square footage and acreage contained herein are more or less. Prospective purchasers are encouraged to perform their own due diligence, in advance of the auction, regarding the permitted uses of the property.
LOCATION:
707 Snowdon Lane is situated in the Parke West subdivision, Glen Burnie area of northern Anne Arundel County. The neighborhood is located west of I-97 Exit 14, east of Quarterfield Road and south of Parke West Drive. Area homes are a mixture of detached homes and garden apartments. Nearby public schools are Quarterfield Elementary (within walking distance), Corkran Middle and Glen Burnie High, according to the Anne Arundel County government web site. Homes in the immediate neighborhood appear to be well maintained and some have been expanded and further improved. Parke West is convenient to shopping, MTA light rail and bus, major highways, BWI Airport, Baltimore-Washington Medical Center, restaurants and attractions.
SITE:
Level, rectangular lot – 62′ x 110′ comprising 0.16 acre
Zoning R5, residential
Public water, sewer, gas, electricity, telephone, cable
Concrete two-car driveway leads to garage
Chain link fenced rear yard
IMPROVEMENTS:
Two Story Colonial Home, built in 1973 and containing 1,540 square feet of living area, according to public tax records.
Exterior
Aluminum Siding
Asphalt Shingle Roof
Vinyl Double-hung Windows
One-Car Attached Garage
Sun Deck in Rear
Wheelchair Ramp
First Floor – vinyl laminate flooring, drywall
Foyer with coat closet and stairway chair lift
Living/Dining Room

Kitchen – wood cabinets, laminate counters, stainless steel refrigerator and electric range/oven, disposer

Family Room – fireplace and french doors to rear deck

Laundry – washer, dryer, utility sink
Half-Bath

Second Floor – carpeting, drywall
Master Bedroom with ceramic tile Half-Bath

Bedroom #2

Bedroom #3

Bedroom #4

Hall Bath – ceramic tile, fiberglass shower stall

Mechanical
Gas forced air heat
Central air conditioning
Gas, 40-gallon water heater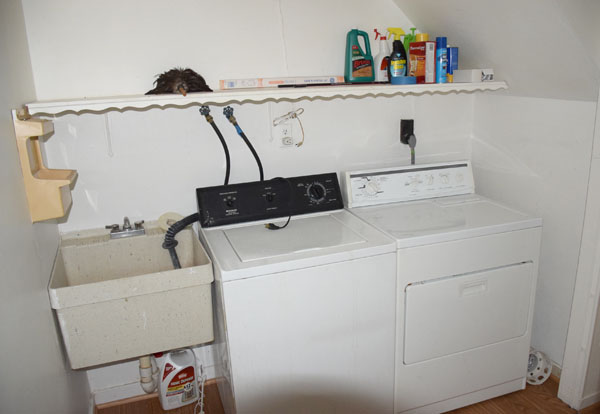 TITLE:
The property is in fee simple and sold free and clear of liens. Anne Arundel County Deed Book 4307, Page 622.
TAXES:
Published annual real estate taxes are $3,174, based on a full value assessment of $260,600. Purchasers may petition for a reduction in the assessment of their property in conjunction with a purchase price substantially less than the currently assessed value of the property. Purchasers are encouraged to contact the Maryland State Department of Assessments & Taxation concerning the appeals process, and may see the following link for helpful information:
http://dat.maryland.gov/realproperty/Pages/Assessment-Appeal-Process.aspx
TERMS OF SALE:
A $15,000 deposit, payable by cashier's check, will be required of the purchaser at time and place of sale. The deposit shall be increased to 10% of the purchase price within 24 hours at the Auctioneer's office. Balance to be paid in cash at settlement, which shall take place within 45 days. If payment of the deposit or balance does not take place within the specified time, the deposit shall be forfeited and the property may be resold at the risk and expense of the purchaser. Interest to be charged on the unpaid purchase money, at the rate of 12% per annum, from date of contract to date of settlement. All adjustments, including taxes, all other public charges and assessments payable on a monthly or annual basis, and sanitary and/or metropolitan district charges, if any, to be adjusted for the current year to date of contract and assumed thereafter by the purchaser. The property will be sold in "AS IS" condition, and subject to easements, agreements, restrictions or covenants of record affecting same, if any. Purchaser assumes the risk of loss from the date of contract forward. The purchaser agrees to waive the right of inspection for lead paint, as provided under current Federal and State law. If the Seller is unable to convey good and marketable title, the purchaser's sole remedy in law or equity shall be limited to the refund of the deposit. Upon refund of the deposit this sale shall be null and void and of no effect, and the purchaser shall have no further claim against the Seller or Auctioneers. Recordation costs, transfer taxes and all costs incidental to settlement to be paid by the purchaser except where otherwise mandated by local, State or Federal law. Time is of the essence.
No buyer's premium.
Auction by order of:
Chandra Jones, Personal Representative of the Estate of Earl Lee Banks, Jr.