REAL ESTATE AUCTION
Suggested Starting Bid: $100,000
GUARDIAN'S SALE
COCKEYSVILLE:
COMMERCIAL DEVELOPMENT SITE
0.30± ACRE ✦ ZONED BL-AS
Sale On Premises
10730 YORK ROAD
½ Mile North of Warren Road
Baltimore County, MD 21030
THURSDAY, DECEMBER 12, 2019
AT 2:00 P.M.
NOTE: The information contained herein has been obtained from sources deemed reliable and is believed to be substantially accurate. However, no express or implied warranty is made or may be inferred from any such representation. Dimensions, square footage and acreage contained herein are more or less. Prospective purchasers are encouraged to perform their own due diligence, in advance of the auction, regarding the permitted uses of the property.
LOCATION:
10730 York Road is located approximately one-half mile north of Warren Road in the Cockeysville area of northern Baltimore County. York Road is the primary commercial artery for northern Baltimore County, and features an array of retail businesses, offices and substantial commercial and industrial complexes. Nearby property uses include automotive, retail sales, restaurants, professional offices, educational and religious facilities. I-83 (Harrisburg Expressway) is approximately 1.5 miles west, and York Road provides direct access to Hunt Valley, Timonium and Towson. An array of residential communities are also close by, providing a substantial consumer base for businesses of all types.
Exposure at the site is impressive, with good opportunity for signage for traffic along York Road. According to Maryland State Highway Administration statistics, the annual average daily traffic count is 32,612 along the corridor of York Road in front of the property.
For more information about the area, please visit:
https://www.baltimorecountymd.gov/
https://bcgis.baltimorecountymd.gov/myneighborhood/
For more information about traffic statistics nearby, please visit:
https://www.roads.maryland.gov/index.aspx?PageId=838
SITE:
Lot size: 0.30 acre, more or less
85′ front along York Road
Curb cut on York Road
20′ right of way from McCann Avenue
Baltimore County Tax ID: 0805019411
ZONING:
Zoned BL-AS: Business Local – Automotive Service
According to the Baltimore County Citizen's Guide to Zoning, typical uses permitted by right include "retail sales, personal service, restaurant, bank, office, tavern, food store (and) medical clinic." According to the same guide, the intent of the automotive service district is "To be applied within the urban-rural demarcation line (URDL) to certain parcels of land zoned BL, BM, or BR that are appropriate for uses dominated by the parking and servicing of automobiles or characterized by frequent turnover, such as fuel service stations and car wash operations," with typical uses permitted by right or special exception being guided by the underlying zone (BL).
For more information about Baltimore County zoning, please visit:
https://www.baltimorecountymd.gov/Agencies/planning/zoning/
Zoning Map: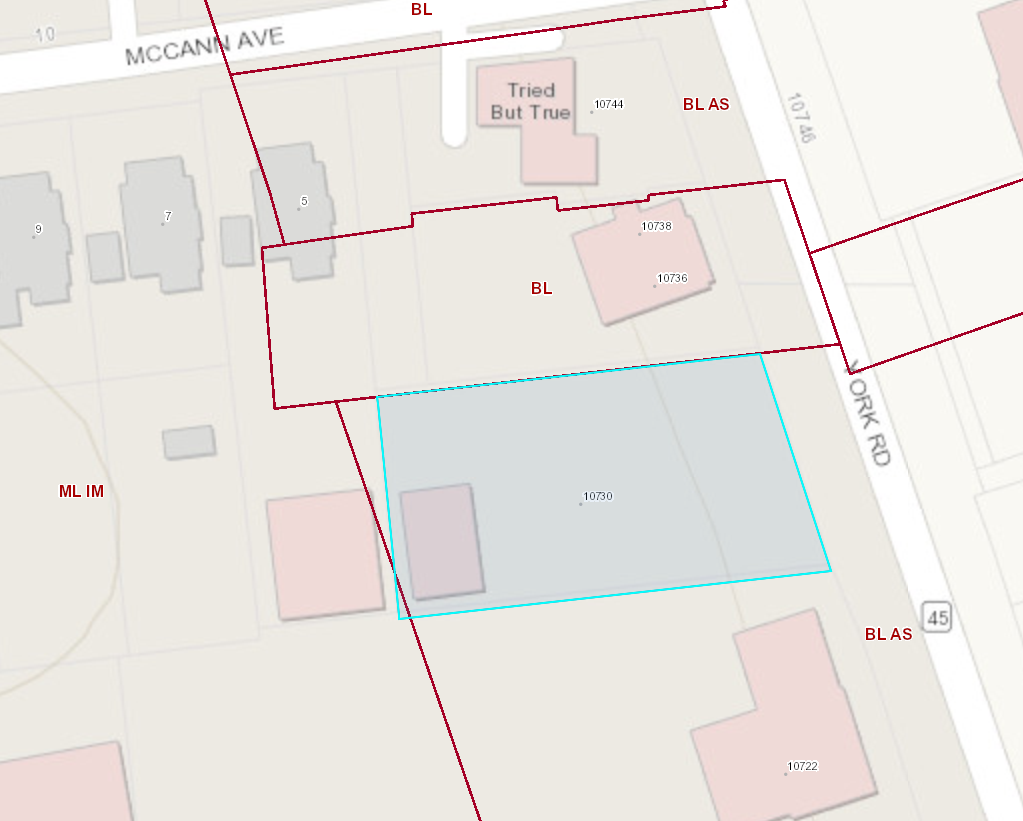 IMPROVEMENTS:
Storage building – constructed in 1985 and containing 960 square feet, according to public tax records.
TITLE:
In fee simple; being sold free and clear of all liens. Baltimore County Deed Book 26679, Page 332.
TAXES:
Published current annual real estate taxes are $1,899.23 based on a full value assessment of $129,600.
TERMS OF SALE:
A $10,000 deposit, payable by cashier's check, will be required of the Purchaser at time and place of sale. The deposit shall be increased to 10% of the purchase price within 24 hours at the Auctioneer's office. Deposit funds shall be held by A. J. Billig & Co., LLC. Balance to be paid in cash at settlement, which shall take place within 45 days. If payment of the deposit or balance does not take place within the specified time, the deposit shall be forfeited and the property may be resold at the risk and expense of the Purchaser. Interest to be charged on the unpaid purchase money, at the rate of 12% per annum, from date of contract to date of settlement. All adjustments, including taxes, all other public charges and assessments payable on a monthly or annual basis, and sanitary and/or metropolitan district charges, if any, to be adjusted for the current year to date of contract and assumed thereafter by the Purchaser. The property will be sold in "AS IS" condition, and subject to easements, agreements, restrictions or covenants of record affecting same, if any. Purchaser assumes the risk of loss from the date of contract forward. The Purchaser waives and releases the Seller, the Auctioneers, and their respective agents, successors and assigns from any and all claims the Purchaser and/or its successors and assigns may now have or may have in the future relating to the condition of the property, including but not limited to the environmental condition thereof. If the Seller is unable to convey good and marketable title, the Purchaser's sole remedy in law or equity shall be limited to the refund of the deposit. Upon refund of the deposit this sale shall be null and void and of no effect, and the Purchaser shall have no further claim against the Seller or Auctioneers. Recordation costs, transfer taxes and all costs incidental to settlement to be paid by the Purchaser. Time is of the essence. No buyer's premium.