This Auction has been CANCELED.
Sold prior to the auction.
REAL ESTATE AUCTION
Estate Sale for Remanderpersons
Featuring Live & Online Simulcast Bidding
$150,000 Opening Bid
ARBUTUS
"Arbutus Terrace"
Circa 1929
MASONRY BUNGALOW
Arranged for 2 Apartments
Original Details & Trim
Known As
1321 MAPLE AVENUE
Off East Avenue
Baltimore County, MD 21227
– CANCELED –
Online Bidding Opens
FRIDAY, JANUARY 8, 2021
Live On-Site Auction Begins
TUESDAY, JANUARY 12, 2021
AT 11:00 A.M.
NOTE: The information contained herein has been obtained from sources deemed reliable and is believed to be accurate. However, no express or implied warranty is made or may be inferred from any such representation. Dimensions, square footage and acreage contained herein are more or less. Prospective purchasers are encouraged to perform their own due diligence, in advance of the auction, regarding the permitted uses of the property.
LOCATION:
1321 Maple Avenue is situated in the Arbutus area of southwestern Baltimore County, located west of US-1, south of the Baltimore Beltway (I-695), north of I-95 and east of University of Maryland Baltimore County. Arbutus is a well-established community with a vibrant community business district along East Drive, one block south of the property. The surrounding neighborhood, Arbutus Terrace, is a 1920s subdivision of well maintained detached homes. Nearby public schools are Arbutus Elementary, Arbutus Middle and Lansdowne High, according to the Baltimore County government web site.
SITE:
Rectangular lot – approximately 60′ x 108′, comprising 0.149 acre of land. Plat
Zoning DR 5.5, residential
All public utilities
Two-car concrete block garage with 2 – hinged doors, pedestrian door and four-car asphalt driveway
Landscaping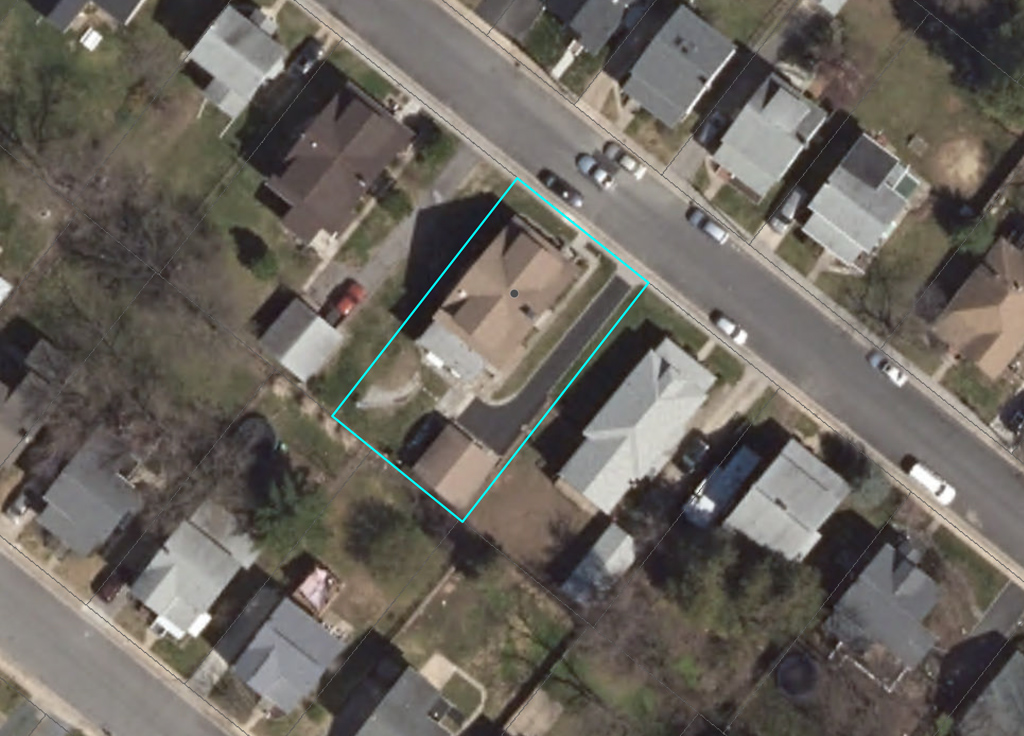 IMPROVEMENTS:
One and one-half story concrete block bungalow, built in 1929, comprising 1,987 square feet of living area, 1,411 square feet of basement space and 400 square foot detached garage, according to public tax records. The property was occupied by the original family that built the home, retains many original details and loads of storage.
Exterior – vinyl trim, vinyl-clad and wood double-hung windows, composition shingle roof, covered entry porch, concrete block basement foundation with walk-out at grade in rear.
Interior – hardwood floors below carpeting, plaster walls, stained wood trim, ornamental details, some paneling and acoustical tile.
First Floor
Foyer
Sun Room
Living Room – electric fireplace, 2 – stained glass windows
Dining Room
Bedroom (no closet)
Office with closet
Breakfast Room
Kitchen – vinyl tile floor, wood cabinets, laminate counters, gas range/oven, dishwasher, refrigerator
Bathroom – updated ceramic tile, walk-in shower
Access to 3 scuttle attics
Second Floor – apartment to be vacated December 31
Living Room
Dining Room
Kitchen with gas range/oven, metal cabinets, refrigerator
Bedroom
Full Bathroom – ceramic tile
3 – Walk-in Closets
Access to scuttle attic
Basement
Large room with tin ceiling, marble walls, tile floor, utility sink
Bathroom rough-in (former bath with fixtures removed)
Laundry Room – concrete floor, washer and dryer
Workshop/Gardening Room
Stairlift to first floor
Mechanical – gas hot water heat (furnace installed 2006), gas water heater (installed 2016), separate gas and electric meters for each unit.
The home appears well maintained and is suitable for continued use as two apartments or conversion to a single family home. Second floor apartment is MDE lead registered.
TITLE:
The property is in fee simple and sold free and clear of liens. Baltimore County Deed Book SM 14096, Page 4.
TAXES:
Published annual real estate taxes are $3,551, based on a full value assessment of $223,133. Purchasers may petition for a reduction in the assessment of their property in conjunction with a purchase price substantially less than the currently assessed value of the property. Purchasers are encouraged to contact the Maryland State Department of Assessments & Taxation concerning the appeals process, and may see the following link for helpful information: Assessment Appeal Process.

SUMMARY TERMS OF SALE:
Please see the contract of sale for complete terms.
A $20,000 deposit, payable by cashier's check, will be required of the purchaser at time and place of sale, if purchased at the live on-site auction. The deposit shall be increased to 10% of the purchase price within 24 hours at the Auctioneer's office. If the property is purchased online, a 10% deposit shall be paid by wire or cashier's check by 4:30 p.m. on the day of sale. Deposit funds shall be held by A. J. Billig & Co., LLC. Balance to be paid in cash at settlement, which shall take place within 45 days. If payment of the deposit or balance does not take place within the specified time, the deposit shall be forfeited and the property may be resold at the risk and expense of the purchaser. Interest to be charged on the unpaid purchase money, at the rate of 12% per annum, from date of contract to date of settlement. All adjustments, including taxes, all other public charges and assessments payable on a monthly or annual basis, and sanitary and/or metropolitan district charges, if any, to be adjusted for the current year to date of contract and assumed thereafter by the purchaser. The property will be sold in "AS IS" condition, and subject to easements, agreements, restrictions or covenants of record affecting same, if any. The purchaser agrees to waive the right of inspection for lead paint, as provided under current Federal and State law. Purchaser assumes the risk of loss from the date of contract forward. If the Seller is unable to convey good and marketable title, the purchaser's sole remedy in law or equity shall be limited to the refund of the deposit. Upon refund of the deposit this sale shall be null and void and of no effect, and the purchaser shall have no further claim against the Seller or Auctioneers. Recordation costs, transfer taxes and all costs incidental to settlement to be paid by the purchaser except where otherwise mandated by local, State or Federal law. Time is of the essence.
No buyer's premium.
Auction in collaboration with Keller Williams Integrity